I love AMAZON! This probably has something to do with the fact that I love shopping from the comfort of my own home. Especially because I can usually find exactly what I'm looking for on Amazon with very little effort. Life is short peeps… time is limited, amiright?!?
So, for fun and hopefully helpfulness, I've created a list of some of my favorite products that are tried and tested by me and my family.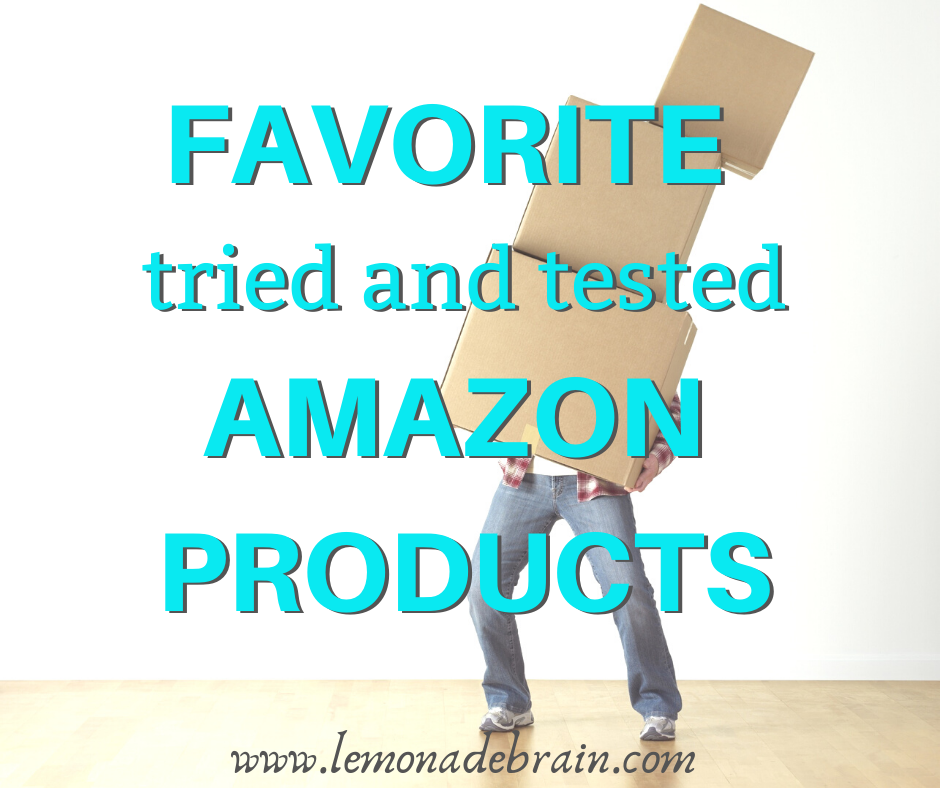 Camping mat:
I LOVE these camping mats! They are so easy to pack, inflate with about 5 breaths and are really comfortable. We use them all the time. Just recently we used them during a family trip to Maui. They fold up to about the size of an umbrella (folded of course) and take up very little room. Way more convenient than trying to pack an air mattress or buy one once you get there.
They are also great to have for emergencies!
Face blaster: I love this for neck tension, jaw and head tension. I have chronic headaches and have had them for about 8 years. If I grab this little tool and massage my head and around my temples, it really helps. I've also seen that people use it to improve cellulite and fine lines on the face. I haven't used it for this, so I can't give an honest review. However, perhaps I will and update this soon! Wink.
Doodle pad: I recently bought one of these for my kids to use at church and for travel. They work great and it's fun that they are different colors. My kids love them and they are easy for all ages to use.
Microfiber towel: If you are anything like me, you can't stand wet hair on your back! Ugh. Especially in the winter. My girls are the same way.
I bought two of these towels and we LOVE them! I'll wrap my hair up in them while I do my makeup and it really cuts down on drying time. They soak up water amazingly well. Now, do they completely dry your hair? I'm sure they will if you leave them on long enough, but I'm too impatient. However, they have been a very "worth it" purchase!
Prograce kids camera: I recently gifted two of these cameras to my nephews. They are small, light weight and water proof. Plus, they work great! It's such an affordable and practical gift for a kid! Instead of new toys that every parent doesn't want, give the gift of making their own memories!  One of my nephews was so happy that he "had a camera like Daddy's." Score! He was able to get some pretty great video's and pictures of tropical fish while snorkeling in Maui. He is five and able to use it!
Redmond real salt: Okay, this salt is AMAZE BALLS! It's the BEST salt. It's an all natural salt that comes from Utah, where I lived for much of my life. There is such a difference in flavor and a little Redmond salt goes a long way! Do you love great steak? This salt is for you.
Little girls vintage nightgowns: My girls each got one of these nightgowns for Christmas! They LOVE them. Like, "don't want to take them off and live in them all weekend" love them. They are well made, comfortable and so cute! They do run large, but I'd rather have them on the big side.
Germstar: I'm obsessed with this stuff. I don't leave home without it. Did you know that typical gel hand sanitizers (and many sprays and wipes) do not kill the norovirus. Norovirus is the virus that causes the "stomach flu."
This hand sanitizer was formulated for the norovirus and I can tell you that, ever since we've been using it, we have not contracted the stomach flu. Now, is washing hands better? YES. Always! But sometimes we aren't in places where we can wash our hands. This is a great alternative.
Avon skin so soft repellent: We recently moved to Tennessee and the chiggers and ticks are CRAZY bad! Our first week here, my kids legs were basically eaten to death. On recommendation from a friend, I bought this skin so soft lotion. It doesn't smell bad like typical bud repellent and it does wonders when protecting us for unwanted bites.
Diaper backpack: This is my backpack and I love it. It's cute, simple and very resilient. It's traveled everywhere with me!
Lemon balm: If you struggle with stress, anxiety or depression, Lemon Balm is worth a try. I have anxiety… always have. When I consistently take lemon balm and ashwagandha (listed below) it makes a world of difference for me! Plus, Lemon balm has other benefits like it aids digestion, cognitive functions, improves sleep and can help with cold sores.
Microplane pedicure rasp: Love this rasp! My feet are horrible… like TROLL feet. Just ask my husband. This rasp takes dead skin off so well! Plus, it's not uncomfortable or painful at all!
Ashwagandha: I use this with Lemon Balm. It also helps with anxiety and stress. Ashwagandha is an ancient herb that has been used for many years. It can help improve blood sugar levels, may have anticancer properties, can reduce cortisol levels which cause stress, can help with depression, can boost testosterone and increase fertility in men, and help with inflammation. I've loved using it and can tell a big difference when I'm consistent. Hey, it might be worth a shot!
Life straw: This little gadget is my FAVORITE emergency item! It can filter up to 1000 liters of contaminated water and is so much easier to throw into a 24, 48 or 72 hour kit than to fill it with gallons of water. I mean, I already feel like a pack mule on a daily basis. The last thing I want to do in an emergency is have to carry gallons and gallons of water for my family. So, for this Mom, it's peace of mind at it's finest.
12 ultra bright glow sticks: We use theses while camping when we don't have access to night lights. They also come in handy for emergency situations. Before we moved into the house we are in now, a tornado came through our neighborhood and took out the garage that used to be next to the house. Our neighbors told us that they didn't have power for a week. My kids would panic if this happened again! Better prepared than not!
Shoulder Massager: I bought this for my husband a few years ago an it's still going strong. It feels amazing and I love that I can use it while sitting up watching Netflix, instead of having to lay down on it.
Alrighty guys, here is my list of some of my favorite Amazon products. I'll try to keep you updated as I order and try new and practical things. Heaven knows I will… Amazon prime is EVIL! Lol.
What products do you love from Amazon?
Have a great week!